Bouguenais / Port Lavigne
"The Settlers"
Sarah Sze
In the hamlets of Bouguenais, Port Lavigne occupies a unique status thanks to its location, deep in the wet prairies. Near the shipyard, a promenade runs alongside the Loire, lined with tall trees (often covered in mistletoe) and paths with luxurious vegetation. Despite its proximity to an airport, Nantes' ring-road, and ports, Port Lavigne is a vast natural domain. It is precisely this site's capacity to whisk us away to another time, another era, and another world that attracted Sarah Sze.
Sarah Sze (1969, Boston) creates works that exist in relation to a landscape or architectural context in which she places her light, aerial sculptures that play with contradictions. Often monumental, her works invite the spectator to stroll and discover new perspectives.
The Settlers, a work that is spread out over the art trail, invites one to explore and to feel the site. Three trees are literally "colonized" by a group of sculptures, creating a series of encounters that are improbable in our part of the world: in one, a bear cub climbs on a tree stump, helped by its mother; in the second, a jaguar lounges about; and, in the last one, a colony of monkeys swing from the third tree. Every animal is portrayed doing something natural: hunting, washing, playing, or sleeping.
The sculptures, perfectly realistic and visible from the river and the bank, are black and appear to be shadows. For the artist, "they play with the idea of a desire for a return to nature and the wild."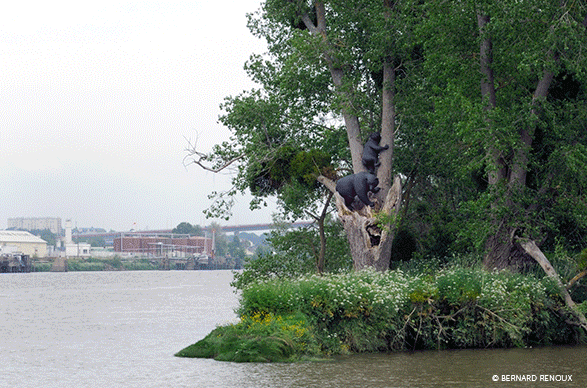 — www.sarahsze.com —
Work created for Estuaire 2009 as part of a public commission by the ministère de la Culture et de la Communication – DRAC des Pays de la Loire.