Saint-Brevin-les-Pins
"Serpent d'océan"
Huang Yong Ping
At the tip of the Nez de Chien fort, at "the lateral limit of the ocean" (the border where the river and ocean meet), Huang Yong Ping's (1954, China) skeleton of an enormous sea-serpent surges out of the sea, as if it had just been found in an archaeological dig. Its movement makes it look alive: with its disproportionate body, one imagines that it crossed the seven seas before washing up on this beach. The shape of its spine echoes the curve of the Saint-Nazaire bridge, and the way it sits is reminiscent of the architecture of the "carrelets", the distinctive off-shore fisheries on the Atlantic coast.
By having a major figure from Chinese mythology appear on European shores, Huang Yong Ping examines, the notions of identity and cultural hybridity, as is often the case in his work. The environmental question is also very present in his art where he regularly exposes the paradox of the man sawing the branch he is sitting on, torn between creative abilities and destructive impulses. This is one of the many possible interpretations of this work: placed on the beach, the skeleton appears with the tide and, little by little, will be home to marine fauna and flora.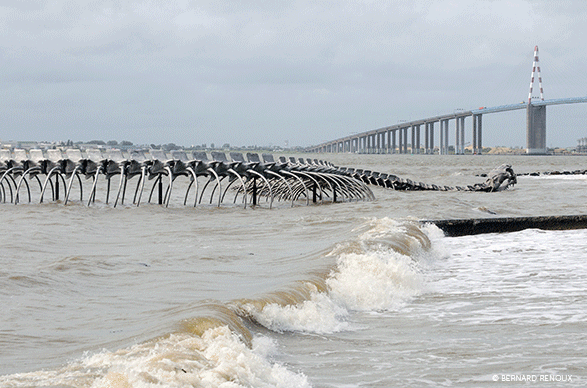 — Artist's website — Beach and swimming are not allowed
Work created co-financed by the European Union – Europe is committed to the Pays de la Loire with the European Regional Development Fund.