Nantes / Petite Amazonie
"Péage Sauvage"
Observatorium
Observatorium aspires to bracketing off our everyday life and placing it in parks and natural spaces where every individual could take the time to immerse him/herself, because "perceiving our environment is impossible without first looking at oneself". Indeed, the Rotterdam collective favours the use of their artwork by inviting the population to appropriate them in their own way.
This project is borne out of questioning the raison d'être of this natural enclave. Next to the train station, this space was the site of heavy bombing during the Second World War. In the 1970s, the project for a city motorway was drawn up and the gravel used for the foundations of the Tour Bretagne, in construction at the time, was used as ballast for the future highway… When the project was abandoned, nature took over, and the site is now home to an exceptional biodiversity which has gained it the nickname "The little Amazon".
Observatorium illustrates this story using a "fairy tale of progress": "If a project for a highway eventually allowed nature to thrive, our project will allow one to enter urban zones even further". They have created a massive wooden sculpture of a tronçon of highway on which we might invent a simple and convivial life to replace urban traffic. As usual, they have created ties with the local population because "art can first and foremost create time and space for people to pay attention to the world and to the internal resonances our experiences can acquire."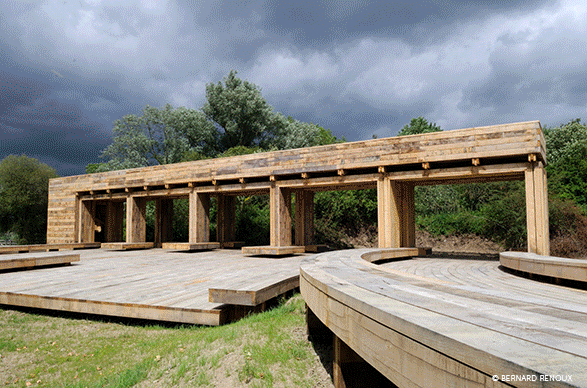 — www.observatorium.org — Download the tale imagined by the artists around the work
Accessible to physically handicapped, except for the 2nd floor. 2nd floor opened only from april to september 26 : 10:00 am to 7:00 pm
Created as part of the Centenary of LPO, in collaboration with the Service des Espaces Verts et de l'Environnement, Le Grand projet de ville and l'Atelier Ruelle. Special thanks to the local neighbourhood teams and to all the associations that volunteered their assistance on this project.
Work created as part of a public commission by the ministère de la Culture et de la Communication – DRAC des Pays de la Loire, with the support of the EDF Fondation for the EDF group, and the Groupe Giboire, Official Partners.