Le Pellerin – Canal de la Martinière
"Misconceivable"
Erwin Wurm
The Canal de la Martinière, inaugurated in 1892, was built to reach Nantes' port more easily. Today, it is used for hydraulic regulation, and you can find boat lovers or plant enthusiasts, people fishing…
Misconceivable is a bended sailboat as if irresistibly drawn to the river.
Having started to work with sculptures "by chance", Erwin Wurm (1954, Austria) has always enjoyed challenging rules and habits. By using day to day objects, video, design and photography, Erwin Wurm's work solidly questions contemporary sculpture. Imbued with a dramatic sense of humour, his work pushes ordinary moments into the absurd.
Obsessed by human capacity to "sculpturally" transform, he applies those human characteristics (thinness, obesity) to social features, like a car or a house. For him, objects, like human, undergo a thought process. Do objects have a soul? Erwin Wurm replies with a resounding "yes!"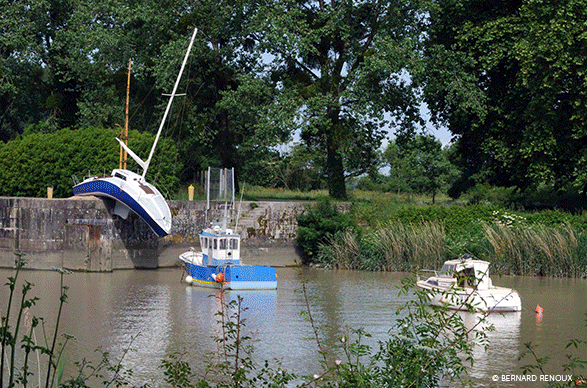 Work created for Estuaire 2007