On the estuary
Rezé (Trentemoult)
"Le Pendule"
Roman Signer
Rezé has a strong architectural heritage (Le Corbusier, Dominique Perrault or Massimiliano Fuksas). One of its quarter, a former fisherman village, overlooks the river: Trentemoult. Here, there is an old concrete factory, built at
the end of the sixties, and which is now derelict…
Roman Signer (1938, Appenzell) is known for particularly enjoying derelict buildings. For him, the plant is endowed with many qualities: proximity to the river, complex mechanics, and the ability to transform matter. It is these qualities and evocative power that Signer wished to reveal with his minimalist structure: a 7-meter (25-foot) long pendulum hanging off the building. This object regularly and inexorably stamps time out and creates a rhythm for the unending flow of the river, with its violent and calm power.
Roman Signer is famous all over the world for his "explosive" performances. Fascinated by the power of nature (storms, wind, volcanoes, geysers, glaciers, torrents), he keeps on pitting its strength against objects. Often putting himself at risk, his work is endowed with a unique and unprecedented poetic force.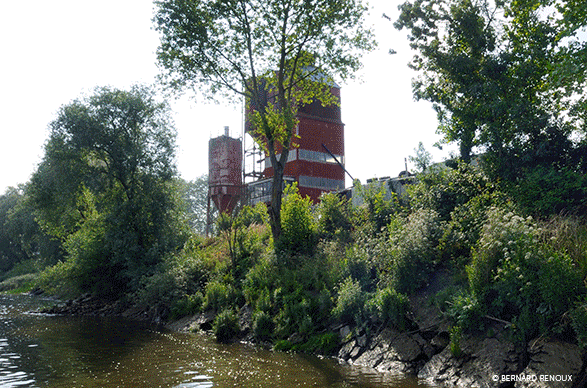 — www.romansigner.ch —
Work created for Estuaire 2009 as part of a public commission by the ministère de la Culture et de la Communication – DRAC des Pays de la Loire. With support from Pro Helvetia.