Paimbœuf
"Le Jardin étoilé"
Kinya Maruyama
Based on the constellation of Ursa Minor and the four cardinal points, architect-artist-landscape designer Kinya Maruyama used vernacular materials to build Le Jardin étoilé. Visitors experience this space: here, you can walk, play, sit, breathe, or contemplate.
Created for Estuaire 2007, Le Jardin has also been able to evolve. In 2012, Kinya Maruyama further embedded the garden in its natural element: the changes made to it are primarily vegetal.
Team Zoo is a variable association of architects created in Takamasa Yoshizaka's workshop at Waseda University in Tokyo. It is made up of about ten teams, which were dispersed from two original groups, Mobile Workshop founded in 1969 by Kinya Maruyama, then the ZO Workshop in 1971.
For Team Zoo, a construction is not an object – it is a place for discussion, an integration tool, which must, like an item of clothing, not hinder movement and, like a landscape, evolve with time.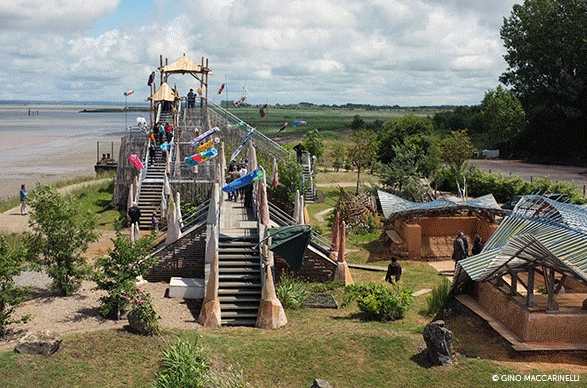 — Disabled access except on the elevations. TÉLÉCHARGER LE CONTE IMAGINÉ PAR KINYA MARUYAMA AUTOUR DE L'OEUVRE
Work created for Estuaire 2007 with the help of La Caisse des Dépôts, Project Partner of Estuaire and technical assistance from Layher. With the participation of the following schools in Paimboeuf: école publique Louis-Pergaud, école privée du Sacré-Coeur, collège Louise-Michel, lycée professionnel Albert-Chassagne, as well as lycée Louis-Brossaud from Saint-Nazaire and the Architectural Schools of Nantes and Tokyo.