Lavau-sur-Loire
"L'Observatoire"
Tadashi Kawamata
In Lavau, following the intensive public works of digging the channel and filling the Loire, the river withdrew, leaving a large swampland behind. Tadashi Kawamata offers a new view of the river by creating a trail leading to an observatory. At 40 cm (15 inches) off the ground, and 800 metres (half a mile) long, without any handrail, this walkway, which is linked to the village, allows visitors to experience a true immersion in nature.
To design his projects, Tadashi Kawamata begins with an attentive study of a given site (history, geography, lifestyle). He often constructs a bridge – a link between past and present, between one population and another – which he builds out of wood, his fetish material. He then creates a working community, a .melting pot. of people from the village and foreign students, which is just as important as the work itself, for its creation.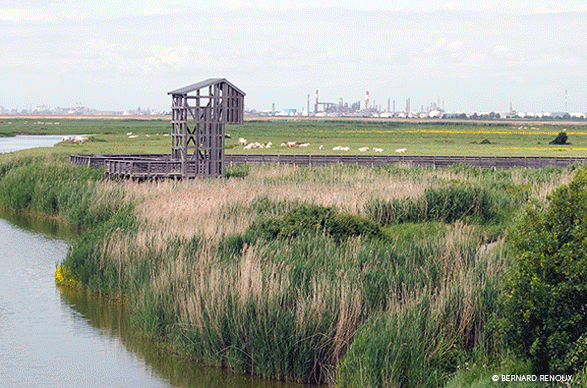 — www.tk-onthetable.com — Accessible to disabled except for the tower. Walking time back and forth : 45mn. Big tides can partially recover the path offering a new vision of this remarkable site.
Télécharger le document d'aide à la visite pour mieux appréhender l'environnement autour de l'oeuvre (histoire du site, faune, flore…)

This work created has been designed as part of the public procurement of the ministry of Culture and Communication – DRAC (Regional Direction of cultural affairs) of the Pays de la Loire, in collaboration with Le Conservatoire du Littoral and le Plan Loire grandeur nature, thanks to financial support from the EDF Fondation for the EDF group, Official Partner.